Probably the Best Swinger Sauna in Lisbon
Alone or accompanied, come and discover our 350m² exquisite and sophisticated vicinity. Open daily from 11am until 2am.
If you are looking for a hot moment or just want to relax, enjoy the dry heat of this Finnish invention in Lisbon.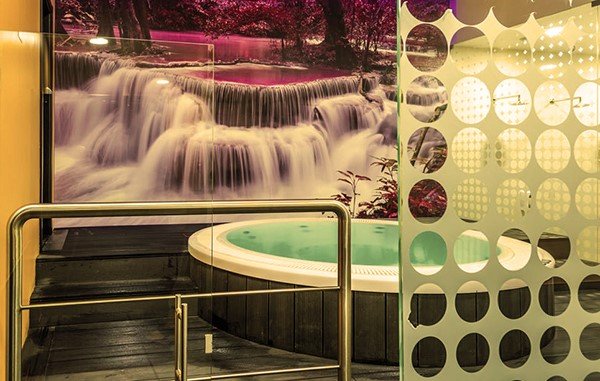 In this bubbling cauldron there is no room for ice. Any inhibitions evaporate here. Relax into the warm water and …
Spacious room with a ceiling lined with small lights simulating that you are under a starry sky. Look at the stars and recharge your batteries.
Large entertainment room. Which characters are part of your movie? The people on the screen or…?
Ever wanted to experience a dark room? Or a prison? Or how about a room with Glory Holes? Explore our themed rooms for memorable adventures.
A huge bed awaits you in several private rooms for you to feel your partner's excitement. Lock the door for privacy or leave it ajar…
SKY Sauna Club is a unique and luxurious space dedicated exclusively to your well-being, pleasure and relaxation
Probably the best Swinger Club in Lisbon. Located in the heart of the city of Lisbon, SKY Sauna Club is a unique and luxurious space dedicated exclusively to your well-being, pleasure and relaxation.
We have at your disposal a mixed sauna, a Spa/Jacuzzi, a Hammam, a cinema room, several themed rooms as well as exclusive areas for couples.
Impeccable hygiene, comfort, service, safety and discretion are absolute rules at SKY Sauna Club.
Visit us and experience an unforgettable adventure!
Come, take a tour with us alongside our amenities
No better impression than a detailed article from a columnist and some pictures from our amenities.
Come, take a tour with us alongside our amenities
No better impression than video footage and an article from a columnist.
Our 5 golden rules will guarantee an extraordinary visit everytime again
Make sure you follow us on our socials to not miss a thing.
It was our first visit in this libertine sauna where we felt very comfortable. Friendly and smiling welcome at the entrance of the place. There after an explicit guided tour. Pleasant atmosphere where hygiene is essential. Maybe the wird pool is a bit small, however the Hammam & Sauna are spacious. Well maintained and clean cuddly places. Specific place for couples only, which is a clear advantage when there are too many single men. The price is reasonable for a couple which is a plus. During our visit, the male clientele was discreet and respectful. We were not disappointed to come! Special mention to the Staff who took great care throughout our "stay"! Evening more than successful and we are already looking forward to returning. Thank you for this wonderful evening spent in your company…
A space of excellence, refinement and good taste for a healthy Naturist practice with sauna, Turkish bath and jacuzzi among other leisure rooms! Mainly frequented by the swinger community, but where male and female singles are also accepted. Environment of excellence. Congratulations to the organizers and much success in the business!!
Very good spa! Spotlessly clean place! A great sauna! Very good and spacious Turkish bath and a nice dry sauna! I loved the jacuzzi, huge and ideal for interacting with other regulars!! Lots of couples! Ideal for spreading Magic at the highest level….. I recommend it to everyone.
Reasonable prices for a great experience
Four bath towels
Disposable slippers
Chipped bracelet for access to couples' exclusive areas
Two bath towels
Disposable slippers

Two bath towels
Disposable slippers

SKY SAUNA CLUB
Rua de Marvila, 50
1950-200 Lisboa (Portugal)
Every day from 11am to 2am
Forbidden entry to minors
Smoking and the consumption of alcohol and other narcotic drugs is not allowed
Filming or photographing inside the premises is prohibited
Singles aren't allowed in the Couples restricted area
It is forbidden to knock on the doors of the rooms when these are closed
Respect for the others in the use of facilities
Prohibited the provision of erotic services, massages or sexual content in exchange for any monetary or material remuneration
The SKY Sauna Club is not responsible for the loss or theft of personal goods and values within the premises.